It is the latest generation of environmentally friendly silicone Brush for Kitchen & Bathroom.
Magic for your Daily Life & Ultra Durable to preserve Nature.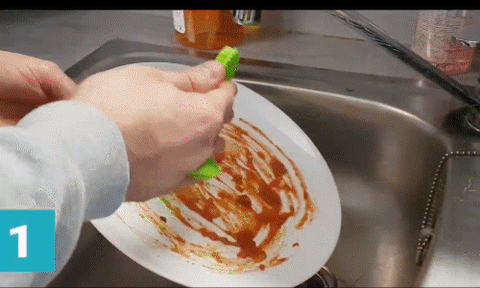 8-in-1 Multifunctional
This silicone brush features 8 functions that allow you to do mostly anything. You get a dish potholder, sponge brush, spoon holder, trivet, coaster, vegetable brush, shower brush, soap holder.
BPA Free & Safe for Your Health
Made of high-quality silicone with BPA free, it can directly contact food, which is safe for your health.
Recyclable & Ultra-Durable Silicone
Made of recyclable & ultra-durable silicone, it can be well used for many years, which can save you money for replacement, and most importantly, reduce the generation of plastic waste to protect the environment.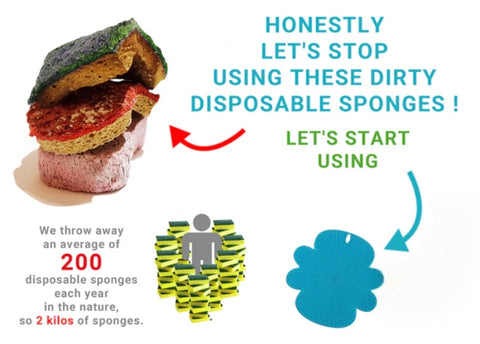 Recto and Verso
The front side has a harder and more robust surface ideal for rubbing very dirty areas. The reverse side has many silicone bristles for gentle washing of your dishes and utensils. It is much more flexible and thick to keep the soap foam.
Magnetic & Easy to Store
The magnetic design allows you to easily attach it to metal objects such as refrigerators, ovens, microwave ovens, mirrors, etc, which is clean, convenient and very interesting.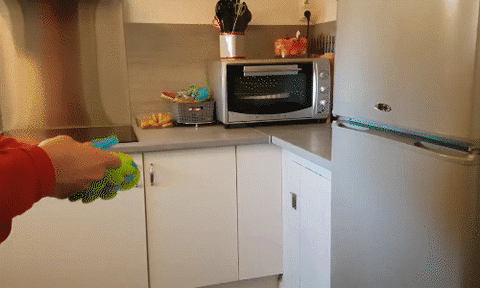 Even Much More Functions
You can use it as a toaster or a bottle opener.
Clean off lime and bacteria and your dirty hands,
wash bathroom tiles and hold your kitchen accessories
take a hot dish from your oven or your microwave,
hold a hot lid, combine 3 to make a lager trivet,
decorate your kitchen, brush the hair of your cat,
protect your furniture from flower pots.
Reusable and Easy to Clean
The wiper plate can be cleaned by flushing with water easily without scrubbing. After rinsing, there are no stains leaved and it can be reused.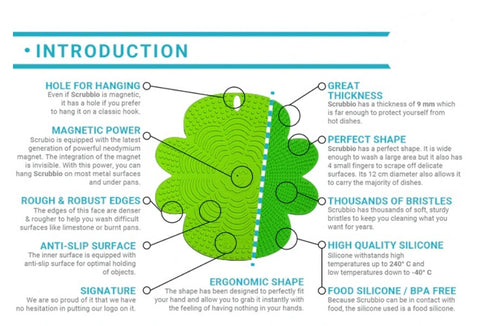 SPECIFICATIONS
Color: Green/ Blue
Package includes:1×8-1 Eco Multifunctional Magnetic Silicone Brush