Muddy paws and dirty prints everywhere? We got you covered!
This Paw Cleaner will help you forget about the dirty paws and muddy prints around the house. It is designed to clean your pet's feet quickly and safely. Perfect for active dogs or on rainy days!


Easy To Use
All you need to do is to fill the container with some water, insert the dirty paw, give the Paw Cleaner a few twists, and pull out a perfectly clean paw.


Super Effective 
Only 3-4 twists of the Paw Cleaner are enough! You can do all four paws in less than a minute!


Soft & Durable
The inner soft silicone bristles protect your pet's paw from pain, itching, and uncomfortable feeling. They are also BPA-free and ensure safe cleaning. The durable materials allow the Paw Cleaner to be used over and over again. 


Easy To Clean
The Paw Cleaner consists of a brush and a cup, which are both removable. The soft silicone brush provides comfortable care for your pets. The internal part could be separated and just water flushing could make it clean.
Specification:
Type:Pet Cleaning Brush Cup
Target:Dog/Cat
Material: Plastic
Color: blue,orange,green
Weight: 80g/100g/120g
Size: S/M/L
S size:5.5×7.2×9.3cm
M size:6.3×8.2×11.2cm
L size:7.3×9.2×15.2cm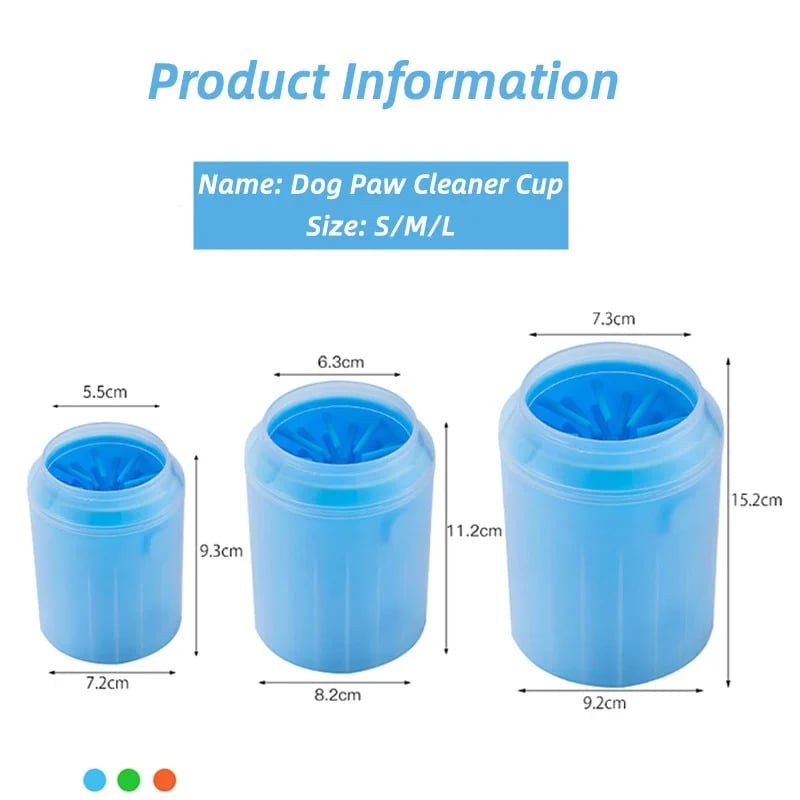 S: Suitable for cats and dogs less than 5kg
M: Suitable for dogs within 7.5-17.5kg
L: Suitable for dogs of 20-40kg
Package content:
1x Dog Paw Cleaner Cup