Every child wants to have his own set of brushes to draw his own works!
What are the benefits of children's drawing for children?
Memory improvement
Improved observation ability
Improved imagination
Timely venting of emotions
Painting makes the left and right brains "work" together
The drawing process exercises children's various abilities
Painting is a form of expressive expression
FLEXIBLE DUAL TIPS – These dual-tip marker pens(1-2mm brush tip and 0.4mm fine tip) are a good choice for your next masterpiece.
 The nylon brush tip allows you to create thin, precise lines with the fine tip and thick, bold lines when light pressure is applied.
Use the brush tip for coloring, shading, and blending, and the fine tip for smaller details. You can do it all with one marker!
GORGEOUS COLOURS – You'll get a huge range of vibrant, highly-pigmented colors.
Each set includes primary colors and complementary colors, and blend beautifully for added dimension to your artwork.
PERFECT FOR BEGINNERS & PROFESSIONALS – Perfect gift for artists of all ages and skill levels.
They can be used for coloring books, hand lettering, calligraphy, bullet journal, or comic books!
STAY NICE AND ORGANIZED – Keep your marker pens organized nicely in a plastic storage case with a fold-over snap closure which can be easily placed in backpacks.
The carry handle makes it convenient to carry in school, travel, or at home and office.
No matter your needs, these markers have got you covered!
USE WET OR DRY – Use the pens as they are for a bolder application or produce watercolor effects by adding water to blend and layer colors.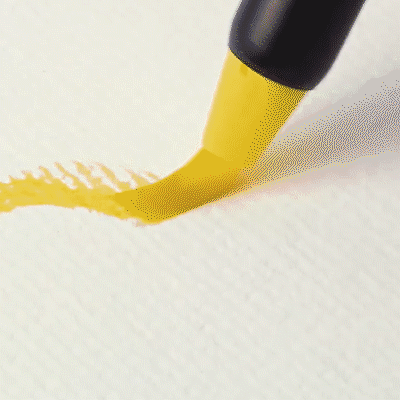 AP CERTIFIED NONTOXIC – Easily layer and mix different colors without worrying about smudges and blotches.
The high-quality fiber pen tips are wear-resistant and not easy to fork.
Plus, the water-based ink is acid-free and non-toxic.